Win Art

Many Artist's will be holding raffles in their studios. Locations offering art-to-win are marked with † in the brochure and the win art symbol in the Artist's listing online. Winners will be drawn from those attending that Artists' studio.
Meet the Artist and win art directly from them!
Item may be different from that shown.

2. Jenni Brant/ Eric Petersen – Ceramics
9. Jennifer Fisher Jones – Painting/Giclée Prints

20. Kimberly Bosworth – Jewelry
21. Carl Homstad – Oil Paintings/ Color Woodcut Prints
25. Lindsay Lee & Lee Zieke Lee – Willow Baskets/ BirchBark Boxes/ Painting
27. Nate & Hallie Evans – Pottery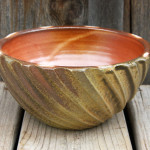 Fluted bowl, wheel thrown, wood fired to cone 12.  Shino glaze inside, natural ash glaze outside.  $35

32. Rebecca Kobos/ Joel Shoemaker – Fiber/ Ceramics
37. Peggy & Steve Kittelson – Kaleidoscopes