Tour Info & Press Kit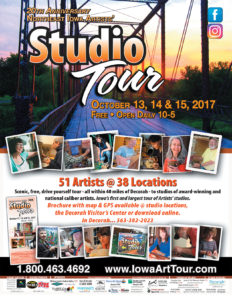 The 20th Annual Studio Tour to be held on October 13, 14 & 15, 2017 will feature 51 Artists at 38 locations all within 40 miles of Decorah. The Artist's newest work was featured in the 2017 Pre-Tour Preview exhibition at ArtHaus held August 10-September 29.
The Tour Artists nestled among the wooded hills and winding rivers will open their doors daily from 10-5. Decorah, is the hub, the central community from which the tour radiates, up to 40 miles in all directions, in Iowa. Go for a scenic drive and experience a unique, behind-the-scenes view into how their work is created.
Download the 4.7mb file to print the 2017 NIAST Poster
Press release 5.24.2017 4.8mb pdf 2017_NIAST_ PRESS

The press release contains our information in 4 versions: Radio or TV Announcement – Bulletin Board Text; Radio Text; Press Release – Medium Version; Press Release – Long Version.
If you would like any high resolution images to print, all images on the website are available, just email!