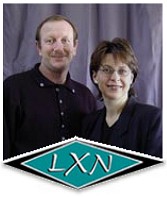 Darla & Glen Ellickson
Jewelry
Location #25
3175 Middle Sattre Rd.
Decorah, IA 52101
Send E-Mail
www.earloops.com
Artist listing 
Designer and creator of award-winning fabricated custom contemporary jewelry in silver and 14 kt. yellow gold, since 1979, with more than 45 awards. Many designs feature unusual gemstones. Specializing in gold/silver wedding bands and resetting of customer's gems. Inventor of Earloops – the non-pierced comfortable "ear"gonomic earring alternative, shipped nationwide. Originators and coordinators of the Northeast Iowa Artists' Studio Tour. Gallery features artwork of Midwest Artists, featuring Ellickson Jewelry, blown glass, pottery, colored pearls, etc. Darla and Glen exhibit annually at 12-14 juried Fine Art Fairs throughout the Midwest. Gallery is open by appointment, call or email.
Leave a comment
You must be logged in to post a comment.