Browsing articles in "Events"
On Friday and Saturday nights, Java John's,
having a pop-up restaurant event, featuring the food of chef Justin Scardina.
Music by Ben Hippen on the piano.
No reservations necessary.
Hours for dinner are 5-8.
Music beginning at 6.
After a lovely day "Tour"ing northeast Iowa, enjoying the Artists and their studios at the Northeast Iowa Artists' Studio Tour, experience more the area has to offer in the evening at "She Writes!" a concert in downtown Decorah at the Lingonberry, 218 W. Water St. from 7p-10p.
Showcasing the songs and sounds of Jeni Holtan Grouws, Brianna Lane, and now Siri Undlin of Humbird, "She Writes!" brings together three of the region's most powerful and inspiring singer / songwriters. The concert follows a day of teaching "Life at the Mic" (see classes at Art Haus).
SPECIAL EVENT
The Preview: Artists of the 20th Northeast Iowa Studio Tour 2017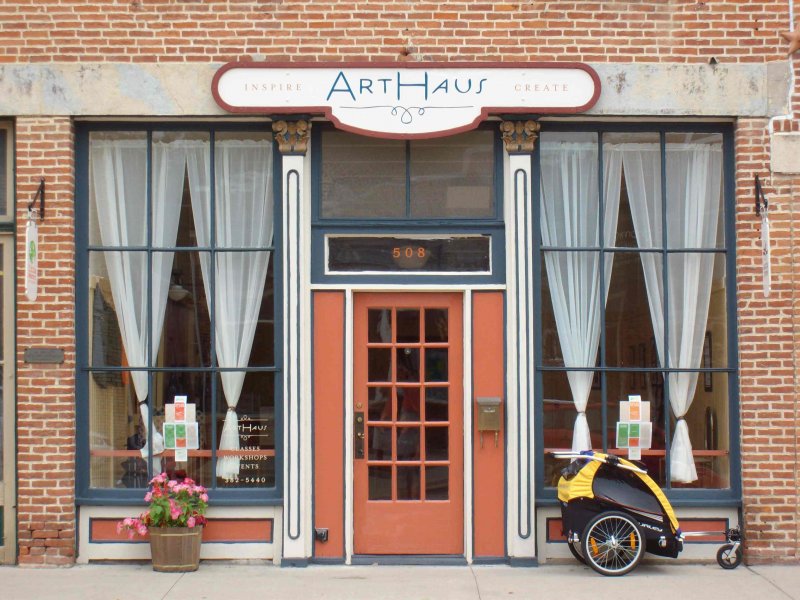 On Display:
Thursday, August 10 – Friday, September 29
Opening Reception:
Thursday, August 10 from 7-9pm
Special
pre-tour exhibition
of the latest artworks created by the Tour Artists at Art Haus in downtown Decorah. A unique opportunity to preview the artists' work in-person to help plan your tour route.
Art Haus
508 West Water Street
Decorah, IA 52101
563.382.5440
Send email
www.arthausdecorah.org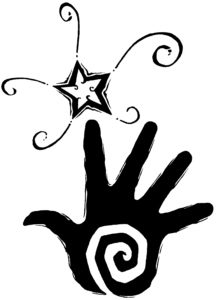 Sponsored by:
Agora Arts
508 West Water Street
Decorah, IA 52101
Supporting American craft for 25 years.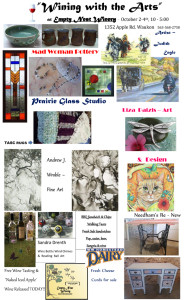 October 2-4th, 2015
10:00 – 5:00 
1352 Apple Rd., Waukon, IA
563-568-2758
Send email
Empty Nest Winery will be in their new but not quite finished winery building where Local Artists display their talents. We will have BBQ Sandwiches, walking tacos, fresh sub sandwiches, cheese curds, pop, water, and of course wine to sample.  We will be open all 3 days from 10-5. Bring a friend and spend some time sipping, snacking and shopping at the winery!!
Feel free to download the poster  wining.arts.emptynest.event
Featuring:
Linda Sue Sulzdorf: Ceramicist
Judith Engle
Gary & Christine Bengtson: Prairie Style stained glass
Liza Paizis: Watercolour paintings, etchings, prints, cards, original artisan jewelry.
Andrew J. Wroble: Black Ink Wash Paintings.
Jim and Bev Needham: Wood art.
Sandra Drenth: Glass Wine Chimes and Bowling Ball Art.
TASC: Rugs.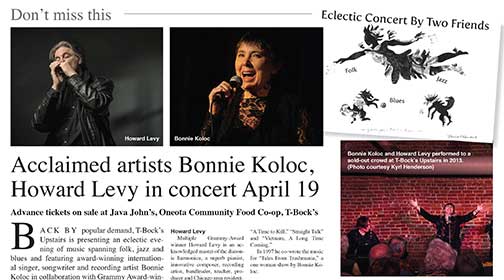 The 2015 Northeast Iowa Artists' Studio Tour welcomes new exhibiting Artist Bonnie Koloc. Multi-talented Bonnie is a musician as well as an active print maker, painter and ceramist. For a pre-tour preview see some of her artwork and a live musical performance!
"Acclaimed artists Bonnie Koloc, Howard Levy in concert April 19
Back by popular demand, T-Bock's Upstairs is presenting an eclectic evening of music spanning folk, jazz and blues and featuring award-winning international singer, songwriter and recording artist Bonnie Koloc in collaboration with Grammy Award-winning piano and harmonica player, Howard Levy.
The concert is Sunday, April 19, and will benefit the Love & Friendship Adoption Center at the Humane Society of Northeast Iowa.
Art pieces donated by Koloc also will be auctioned at the event.
Tickets are $20 in advance and $25 at the door, and are available at Java John's, the Oneota Community Food Co-op and T-Bock's. … Koloc's latest CD, "Bonnie Koloc-Rediscovered," (2012) is preceded by 13 albums, including "Timeless" (2004), a double CD of selections from mostly live performances between 1970 and 1995; "A Bestiary" (2005), a CD accompanying the art book described above; "Here To Sing" (2006), a studio recording; and, most recently "Beginnings" (2009), a CD of selections from early live recordings by Rich Warren, primarily of performances at the legendary Chicago folk club, the Earl of Old Town."
More information at  Decorah Newspapers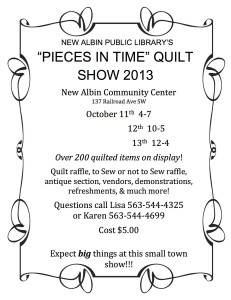 Happening during the Studio Tour, make to visit the New Albin Public Library's "Pieces in Time" Quilt Show at the New Albin Community Center, 137 Railroad Ave SW, New Albin, Iowa.
Opening Oct. 11 from 4-7, Oct 12th from 10-5 and October 13 from 12-4 with over 200 quilted items on display! Quilt raffle, to Sew or not to Sew raffle, antique section, vendors, demonstrations, refreshments, & much more!
Questions call Lisa 563-544-4325 or Karen 563-544-4699
For a poster to distribute quilt show poster
Admission cost is $5.00
Expect big things at this small town show!!!
Check back – new happenings during the Tour will be listed as they develop.