Browsing articles in "Friends"

SPONSOR
Friend of the Arts
Functional wheel-thrown high-fire white stoneware pottery.
Paul Corbin Pottery
2047 Grandview Road
Decorah, IA 52101
(319) 389-6043


Pottery
Exhibiting at Gloe Studio (#8)
Unique wheel-thrown stoneware bowls, vases, bottlenecks, mini-pots and lidded forms. Carved landscapes, fossils and stones used.
Cole Art Pottery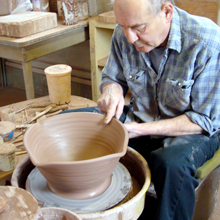 1005 West 1st Street
Sumner, IA 50674
(563) 578-3397
Send E-Mail
Friend of the Arts
Profile & Gallery
SPONSOR
∆ open by appointment
Location #9 – Exhibiting at #8 Gloe Gallery
1005 West 1st Street
Sumner, IA 50674
(563) 578-3397
Send E-Mail
Artist Listing
Cole Art Pottery was established in 2000 in Sumner, Iowa. My creations include functional and semi-functional, wheel-thrown and electric fired stoneware pottery using a variety of glazing techniques. My pottery is made of a red clay; stained with iron oxide washes to give an "earthy" appearance. I specialize in platter, bowls, vases, bottlenecks and lidded forms. Recent pottery involves the imbedding of marine fossils that I collect near Rockford, IA. My pottery is shown in a number of galleries in Iowa and Minnesota and I participate in numerous art shows in Iowa and Wisconsin.
Doug Cole received his art education at UNI and was a secondary art instructor for 33 years. In 2000 he retired and established Cole Art Pottery in Sumner, Iowa.
Cole specializes in one of a kind wheel-thrown electric fired, cone six functional and decorative pottery. Doug's pottery philosophy centers on the durability and endless designing options that stoneware clay provides, along with the physical and tactile challenges of this medium. His "earthy" clay pieces emphasize rubbed iron-oxide surfaces with a variety of poured and dripped glaze patterns. Deep and shallow bowls, vases, bottlenecks and lidded forms make up the majority of Cole's pottery productions.
A recent line of pottery involves the attachment of Devonian era marine fossils that are affixed to various pottery forms. These fossils are collected by the artist at the Rockford Iowa Fossil and Prairie Park.
Cole exhibits his pottery at a number of art festivals and galleries in the upper Midwest. He will be showing at Mary Ann Gloe's gallery during the tour.
Send E-Mail
Friend of the Arts
Artist Listing
Sponsor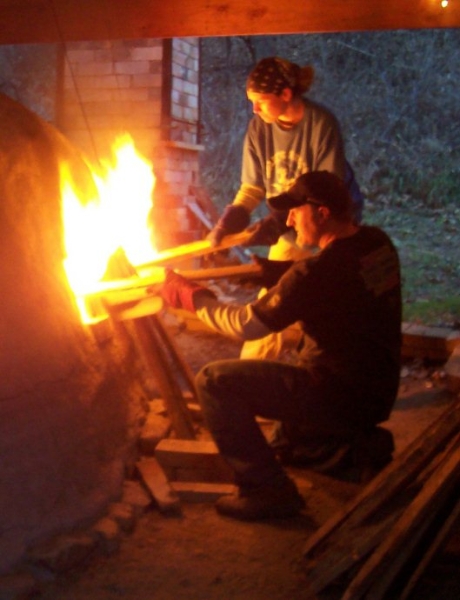 Nate and Hallie have been making functional, wood-fired pots for over 14 years at their home and studio in extreme northeastern Iowa. They make a wide variety of pots, ranging from dinnerware and serving dishes to large floor pots. Their work is mainly wheel-thrown, though they also make several styles of slab built pots. Their pots are all wood-fired in their large anagama style kiln. During the 4 day firing, the pots are marked with flame and ash, making each one unique. They use many indigenous clay and glaze materials and pay special attention to details like form and texture.
Nate and Hallie have been part of the Studio Tour since 1999. Visitors to their studio can enjoy exploring the kiln and workshop and can browse through hundreds of pots in the showroom and lining the porch outside. The fall colors are in full glory on the hills surrounding the house and shop, and there is always plenty of room for kids and dogs to run and play in the yard.
Send E-Mail
www.allamakeewoodfiredpottery.com
Artist listing
Sponsor