Browsing articles in "Sponsor"

Inspire(d) Media is a very small, very independent media company based in Decorah, Iowa. We print Inspire(d) Magazine and also offer a variety of freelance services through our company. Aryn and Benji Nichols founded Inspire(d) in September of 2007 – shortly after they got married (!) and now have grown to print roughly 15,000 magazines every quarter – spring, summer, fall, winter.
Call Us
563.379.7735 (for Aryn / editorial/design)
563.379.6315 (for Benji / advertising/distribution)
send email to Aryn
send email to Benji
http://iloveinspired.com/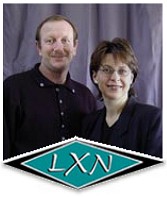 Darla & Glen Ellickson
Jewelry
Location #25
3175 Middle Sattre Rd.
Decorah, IA 52101
Send E-Mail
www.earloops.com
Artist listing 
Designer and creator of award-winning fabricated custom contemporary jewelry in silver and 14 kt. yellow gold, since 1979, with more than 45 awards. Many designs feature unusual gemstones. Specializing in gold/silver wedding bands and resetting of customer's gems. Inventor of Earloops – the non-pierced comfortable "ear"gonomic earring alternative, shipped nationwide. Originators and coordinators of the Northeast Iowa Artists' Studio Tour. Gallery features artwork of Midwest Artists, featuring Ellickson Jewelry, blown glass, pottery, colored pearls, etc. Darla and Glen exhibit annually at 12-14 juried Fine Art Fairs throughout the Midwest. Gallery is open by appointment, call or email.
New Web Design Development – 2012. Ongoing technical maintenance. Systems Analyst, Exchange Admin, Outlook Admin, SharePoint Admin, Lync Admin, Collaboration Evangelist, Tech Geek, Husband, Guitarist and Craft Beer Lover.

 202 East Water St.
Decorah, IA 52101
(563)382-9661
www.decorahbank.com
Member FDIC
Northeast Iowa provides a plethora of artistic talent from eclectic shops to hidden artists' nooks tucked in bluffs and big fields, just waiting to be discovered. A support system behind many of these entrepreneurs is Decorah Bank & Trust Company, a locally-owned and managed community bank. Decorah Bank & Trust Company, supporting local artists and their guests.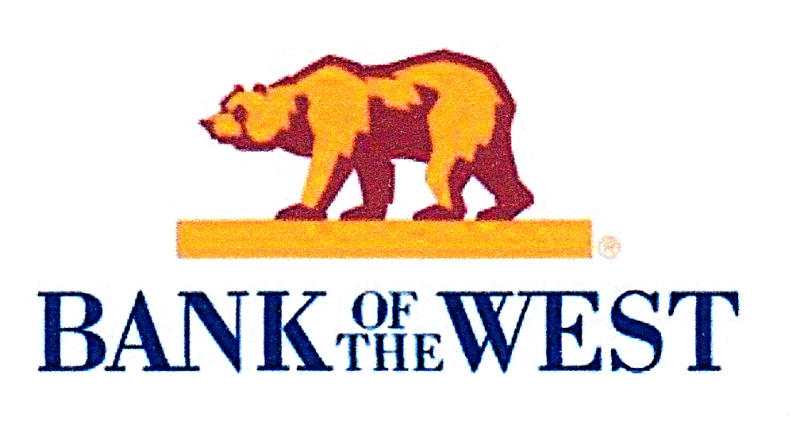 120 West Water Street
Decorah, IA 52101
Decorah – Protivin (563) 382-2991
www.bankofthewest.com
Member FDIC
Bank of the West offers a broad range of financial services including deposit, lending, investment, insurance and trust services. Through these service offerings, we assist and support our clients in reaching their financial dreams and goals. A drive-up location and ATM locations are available. Bank of the West-"Your Winneshiek County Partner in Financial Solutions for over 100 years.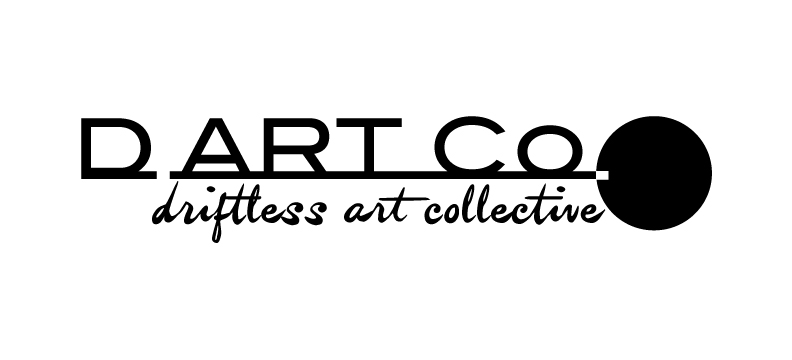 P.O. Box 157
Decorah, IA 52101
www.dartco.org 
Driftless Art Collective, or D.Art Co. (formerly DRAC), was founded in 1978 and rebranded in 2010. The collective has expanded from Decorah to now cover the Driftless Region's Tri-State area – Northeast Iowa, Southeast Minnesota, and Southwest Wisconsin. Our mission is to empower our community to network and foster partnerships, so together we can create stronger art-related events, cultural activities, and educational opportunities. As a membership organization, we provide promotional, administrative, and community-building support to artists and arts groups looking to launch, grow, and improve life in the region. D.Art Co. is currently fiscal sponsor for ArtHaus and Oneota Film Festival.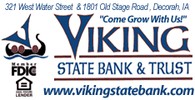 321 West Water Street
1801 Old Stage Road
PO Box 429
Decorah, IA 52101
Phone: 563-387-0191
www.vikingstatebank.com

Waukon State Bank
22 West Main Street
P.O. Box 246
Waukon, Iowa 52172
Phone: 563-568-3451
www.waukonstatebank.com
Member FDIC
Three convenient banking locations. Our main office is located in downtown Decorah and our branch office on Old Stage Road. All of our offices provide quality bank products and service which you deserve. Our loans consists of consumer, commercial, agriculture and real estate. We offer long term fixed rate mortgages. Give us a call about free E-statements and free internet banking with bill pay.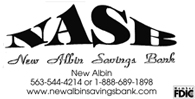 P.O. Box 8, 118 Main St. NE
New Albin, IA 52160-0008
Phone: 563-544-4214
Office: 888-689-1898
Fax: 563-544-4215 or
www.newalbinsavingsbank.com
Member FDIC
The town of New Albin has come a long way since it was first called "state line"…and with growth comes opportunity… since 1898, New Albin Savings Bank has been serving family and friends of the Tri-state area. Today more than 500 people call New Albin home and the New Albin Savings Bank has been a cornerstone in the town's history and economy… from consumer to ag to real estate loans we're here to help. No matter where you call home, remember, New Albin Savings Bank will always be your neighbor. New Albin Savings Bank. Member FDIC. Equal Housing Lender.

116 First Avenue West
Cresco, IA 52136-1514
563-547-1000
Send email to:
JIM HEBEL OWNER
ADULT CONTEMPORARY MUSIC
POLKA SHOW SATURDAY MORNINGS 8AM-NOON
FLASHBACK SATURDAY EVENINGS 6PM-10PM
DAILY OBITUARIES
SUNDAY CHURCH SERVICES
GOLDEN CLASSIC AGE OF RADIO ON SUNDAY
HORSE SHOW ON SUNDAY
SPORTS COVERAGE OF CRESTWOOD CADETS, RICEVILLE WILDCATS, SOUTH WINN WARRIORS, TURKEY VALLEY TROJANS