Tour Info & Press Kit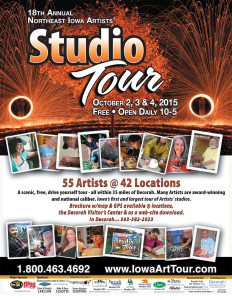 Join us for the 19th Annual Studio Tour on October 7, 8 & 9, 2016! The Tour is Iowa's largest and longest running tour of Artist studios. 2015 featured 55 Artists at 42 locations and was the largest ever! 2015 Artist information is now current online. 2016 applications to exhibit are available here. 
Go for a scenic drive and experience a unique, behind-the-scenes view into how their work is created.
Read more »
Contact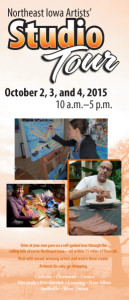 Call or email for a tour brochure/map in advance, or more on lodging, dining and specially scheduled entertainment:
Winneshiek County Convention and Visitors Bureau (WCCVB)
Toll free at 1-800-463-4692, in Decorah (563) 382-2023
To print or download a brochure…
Read more »
Maps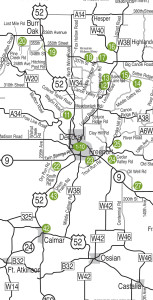 The Studio Tour is a scenic, drive-yourself tour, on curvy, hilly roads, through lush valleys and along ridge-tops, with views that go for miles. Many artists are tucked away on gravel roads. When in doubt concerning road conditions, drive slower than you normally would and tip the car-wash guys when you get done.
The Artist order is designed to provide the least amount of congestion as you travel. Feel free to follow the order or strike out on your own art adventure!
Read more »